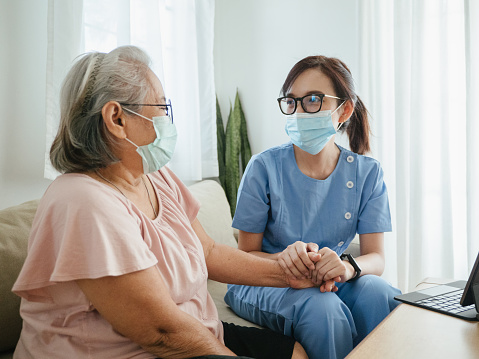 People who are older and require help with basic tasks of living – bathing, dressing, personal care, housekeeping, or preparing meals are candidates for long-term care services.  
Long-termCare.gov estimates that as many as 70 percent of people turning 65 can expect to use some form of long-term care during their lives. 
Why Would I Need Long-term Care?
Age. The older you are, the more likely you will need long-term care.
Gender. Women outlive men by about 5 years on average and so they are more likely to live at home when they are older.
Disability. Having an accident or chronic illness that causes a disability. 69 percent of people age 90 or more have a disability.
Health status. A chronic condition such as diabetes or high blood pressure makes you more likely to need care.
Living arrangements. If you live alone, you're more likely to need paid care than if you're married or living with a partner.
Where can I get Long-term Care Services?
If you have a medical issue or a disability, many long-term care options are available to you. You can get services in:
Your own home.
A daytime program in your community.
A residential setting, such as a nursing home or assisted living facility.
Given the choice, most people would prefer to live in their own home or with their family. By getting help with everyday tasks, this often can happen. Some types of services you may be able to get at home are:
Personal care services — Help with housekeeping, cooking meals or personal care tasks, such as bathing and dressing.
Medical services — Provides medical supplies or equipment to help you be independent. These might include certain tools such as "reachers" to help you get things off high shelves or a scooter to help you move around. You also might receive nursing care in your home.
Transportation services — Rides to medical appointments if you do not have a car or cannot drive.
Caregiver services — Provide a break and other help for family members who help take care of you.
LTCS-Independent Living
What are Independent Living Services?
Independent living (IL) services help people with disabilities achieve greater independence in the home and community. 
As of Aug. 31, 2016, all IL services have been outsourced to and are provided by centers for independent living (CILs), which are located across the state. CILs are nonresidential, private, nonprofit organizations that help people with disabilities achieve their independent living goals. 
What Type of Services can I Receive?
Independent living services help you:
Live and accomplish daily tasks more independently
Participate in your favorite activities
Improve communication access and ability
Improve transportation access and mobility
Gain a better understanding of your disability
Increase confidence in your abilities
Increase access to the community and participation in society
You may be eligible for independent living services if you
have a disability that results in substantial barriers to your ability to live independently.
are determined able to benefit from services.
Where Do I Call to Get These Services?
If you are a person with a disability or a family member, contact your local ADRC for independent living to learn more about services and determine if you are eligible.
We can help you find a location and contact information for centers for independent living that provide independent living services to eligible Texans with disabilities.
LTCS – TRANSPORTATION
Do you need a ride to your doctor or dentist? Are you unable to drive? Do you lack a car?
Who Can Get Help?
If you don't have a car or can't drive, you can get a ride to your doctor visits. You may also get a ride if you need to visit the dentist, drug store, grocery store, senior center, or any place you get Medicaid services.
If you are 60 or older, call your local area agency on aging.
You can also get a ride through the

Medical Transportation Program.

You can call 211 or

visit their website

to search for transportation resources in your area.

American Public Transportation Association

This site contains links to transit agencies for cities, towns and counties across the United States. You can use this site to find bus, rail, or ferry services in Texas.
LTCS – A Daytime Program in Your Community
Whether you live alone or stay by yourself when your family goes to work, you do not have to be lonely. If you go to a daytime program, also called adult day care, you can have fun, learn and be with others. You also may get help with some tasks, such as taking medicine. Learn more about daytime programs.
LTCS – IN A RESIDENTAL FACILITY
Sometimes it's not possible to live by yourself or with your family. In those cases, assisted living or a nursing home might be right for you. These facilities are professionally staffed businesses that provide different levels of care, depending on what you need.
Assisted Living Facility
If you choose to live in assisted living facility, you will usually have your own room or apartment. You can bring your things with you to make it feel like home. You will usually eat with others. Services might include:
Help bathing or getting dressed.
Someone to make sure you get your medicine.
Employees checking on you to make sure you are doing OK.
Nursing Home
If your doctor says you need full-time care from a nurse, a nursing home may be right for you. Nursing homes are the highest level of care most people will receive outside of a hospital. This type of care is sometimes called custodial care. In additional to a high level of medical care, residents get help getting into and out of bed and with feeding, bathing, and dressing and other activities.
The cost of a nursing home in Texas ranges from $3,000 to $4,000 a month (University of Texas). If you do not have much income or other resources, Medicaid may pay for a nursing home. You can talk to a Texas Health and Human Services employee about Medicaid. You will have to live in a nursing home for 30 consecutive days before you can apply for services.
How do I Pay for Long-term Care?
Many people think that Medicare will pay for their long-term care expenses, but this usually is not true. Instead, people have to rely on their savings, long-term care insurance or Medicaid to cover the costs.
And while Medicaid pays for the largest share of long-term care services, to qualify your income and assets must be below a certain level and you must meet the minimum state eligibility requirements. To find out if you might be eligible for Medicaid or to apply for benefits, visit the Your Texas Benefits website.
Note: Texas is required by federal law to have a Medicaid Estate Recovery Program. This means that if you received Medicaid long-term care services, the state of Texas has the right to ask for money back from your estate after you die. In some cases, the state may not ask for anything back, and the state will never ask for more money back than it paid for your services.
Almost 12 percent of Texans – 3.2 million people – are 65 and older and the number is growing. By 2050 that figure is expected to increase to almost 20 percent. This increase of the older adult population will likely mean an increase in the need for all types of health and human services such as health care, home care, personal care, and long-term care.
Texas Health and Human Services provides a range of services for older Texans that help ensure their well-being, dignity, and choice. Programs also are in place to support family caregivers.
Experienced HHS staff and paid contractors can help eligible older Texans access services that:
Create opportunities to live independently in their own homes
Provide information about state and federal benefits and legal rights
Give family caregivers the tools to do their job
Provide access to meals at home or in group settings
Identify assisted-living facility care, daytime programs, or nursing home services they may qualify for
Advocate for people who live in assisted-living facilities or nursing homes
Guide people to the right long-term care services
If you are unsure how HHS can help, call 855-937-2372 to talk to a trained professional who will guide you to the right service options to help meet your needs.
We understand that finding help for older adults and people with disabilities can be overwhelming. That's why we have Trained Specialists who will guide you to the right service options to help meet your needs. They are available to assist you Monday – Friday, 8 a.m. – 5 p.m. If you live within the 23 counties we serve, call the number below and follow the instructions.
then

Press 1

Press 1 again
Enter the ZIP Code of the person receiving care or assistance
After following these easy steps, your call will be transferred to our Trained Information and Referral Specialists who are ready to listen to your concerns and provide you with information for a variety of service providers, including publicly funded and private pay services.
Whether you are looking for long-term care services or supports for yourself or someone else, please give the ADRC number a call.