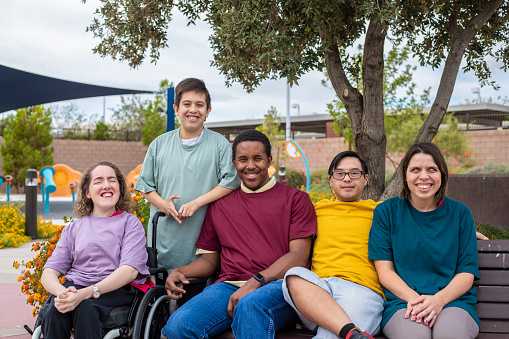 Disabilities
Applying for Disability Benefits
Early Childhood Intervention
Early Childhood Intervention (age 0 to 3) – TxDARS Below are programs that will assist parents with getting their child or children ready for school all through adulthood.
Early Childhood Intervention
Preparing to transition to Preschool
School Transitions (ages 3 to 21)
It's A Good IDEA

 – special education manual for parents
Transition to Secondary School
Transition to High School
GUARDIANSHIP
Sometimes, due to the effects of aging, disease or injury, people need help managing some or all of their daily affairs. One way of doing this is the establishment of a guardianship. A guardianship is a relationship established by a court of law between the person who needs help – called a ward – and the person or entity named by the court to help the ward. This person or entity is known as a guardian.
AUTISM Overview of State Programs Available for Children and Young Adults with Autism Spectrum Disorder
The State of Texas administers a number of programs which serve the needs of children and young adults (defined here as birth through 21 years of age) with autism spectrum disorder (ASD) and their families. Services in Texas for children and young adults with ASD and other disabilities are primarily provided through these state agencies.
Texas Department of Assistive and Rehabilitative Services (DARS)
Early childhood intervention services for children from birth to age three
Autism Program (Applied Behavior Analysis therapy) for children ages 3 through 8
Vocational services for adults seeking employment, including transition services for students exiting high school
Independent living services
Texas Health and Human Services (THHS)
Community services and supports programs, including Medicaid waiver programs
Intermediate care facilities, including State Supported Living Centers
Local MR authorities
Texas Health and Human Services Commission (HHSC)
STAR+PLUS, a Medicaid managed care program
Medicaid Buy-In Program
Texas Department of State Health Services (DSHS)
Texas Health Steps program, which includes the Comprehensive Care Program and Personal Care Services
Texas Education Agency (TEA)
Special education services, preschool through grade 12, provided through local independent school districts which coordinate with Education Service Centers
Day habitation services for adults w/disabilities. Autism services. Project Star is a social and recreational program for people over age 18. Helps families who have a member with a disability.
Provides Information and Referral for Autism services.
Department of Assistive and Rehabilitative Services or DARS
Provides services for Autism Blind and Visually Impaired, Deaf and Hard of Hearing Disability Determination, Early Childhood Intervention and Rehabilitation.
Parent Services Center East Texas (PATH)
Aids families with special needs children ages 0-26 years with referral and transition help. Give parents information and resources to help them understand the special education process but you also help parents prepare for ARDs meetings.
Treatment and Learning Center (TLC)
Program provides individualized treatment to each child, teaching functional skills by integrating children into their natural learning environments and reducing the need for one-on-one training.
Trinity Mother Frances Respite Care Program
Provides short term care for families of a person with a disability.
Autism Websites and Support Groups
INDEPENDENT LIVING SERVICES
If you or a loved one has a disability, contact your local center for independent living to learn more about their services and to determine if you are eligible.
Use the directories below to find a location and contact information for centers that provide independent living services for eligible Texans with disabilities.
Learn More
We understand that finding help for older adults and people with disabilities can be overwhelming. That's why we have Trained Specialists who will guide you to the right service options to help meet your needs. They are available to assist you Monday – Friday, 8 a.m. – 5 p.m. If you live within the 23 counties we serve, call the number below and follow the instructions.
then

Press 1

Press 1 again
Enter the ZIP Code of the person receiving care or assistance
After following these easy steps, your call will be transferred to our Trained Information and Referral Specialists who are ready to listen to your concerns and provide you with information for a variety of service providers, including publicly funded and private pay services.
Whether you are looking for long-term care services or supports for yourself or someone else, please give the ADRC number a call.