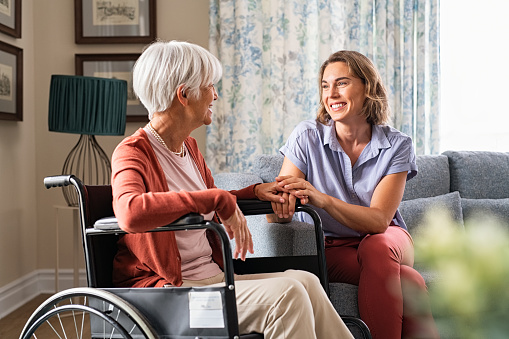 The East Texas Aging and Disability Resource Center is dedicated to promoting safe and affordable housing in the East Texas and Ark-Tex areas by providing more options for people to choose where they want to live.
There is a great need for additional accessible, affordable housing in the 23 counties we serve. Through the Housing Navigator grant, we work diligently to establish relationships with independent rental owners, property managers to share availability of properties and developers who wish to bring additional affordable housing to our area. The purpose of this grant is to provide education and assist key stakeholders such as Housing Authorities, Property Owners, and Developers in providing additional, affordable, and accessible housing in the ETxADRCs 23 served counties.
Our Housing Navigation program provides information on application processes, fees, contacts, and phone numbers of apartment complexes to call for more information.  
Housing Inventory Lists
Our Housing Navigator prepares an Inventory List of accessible, integrated, and affordable housing resources.  This list provides addresses, information on apartments, accessible unit availability and wait list information in addition to identification of properties that accept rental subsidies and housing vouchers.  Housing listings are generally updated twice a year.
SENIOR HOUSING INVENTORY: for older adults and persons with disabilities
ALL BILLS PAID: may include one or all of the bills in the amount of the rent
AFFORDABLE PROPERTIES: basic lower income property listings
ROOM AND BOARD HOMES:  unlicensed and licensed room and board home listings for special populations of individuals
What

a

Housing Navigator CANNOT Do
Find your apartment for you.

  You are responsible for calling and speaking with property managers.

Give you housing vouchers.

   All housing authorities have wait lists and usually have a period every year that they accept new applications.  The Housing Navigator can let you know when you call if any housing authority wait lists are open.   If they are not, a person is not able to enter their name on the wait list at all and housing navigators are not able to as well.

Pay your rent.

   Each person who signs a lease is responsible for payment of rent every month.  If you know you will be late on rent or need help, you must locate resources ahead of time and learn to budget money so that rent is paid in full on time.  

Prevent your eviction. 

When you call for eviction help, housing navigators cannot prevent the eviction process and save your housing.  The Housing Navigator CAN provide legal resources and help identify other possible resources that might be able to assist with rent.
Housing Navigator Services
for Property Managers, Developers, and Housing Professionals
There is a great need for additional accessible, affordable housing in the 23 counties we serve. Through the Housing Navigator Services, we work diligently to establish relationships with independent rental owners and property managers to share availability of properties and developers who wish to bring additional affordable housing to our area.
WHY BUILD AFFORDABLE, ACCESSIBLE HOMES?
Promote a culture of accessibility and inclusion
Broaden your market base
Lengthen resident retention
The ETxADRC's Housing Navigator program exists to support partnerships across the community, including government, for-profit, and nonprofit sectors in increasing consumer access to integrated, affordable, and accessible housing.
It also supports developers, municipal and regional planners, public housing authorities and participate in local housing coalitions to garner practical solutions for housing that is:
1. Integrated
Most conventional and affordable housing developments should include units for persons with disabilities and older adults.
2. Accessible
Housing developments should eliminate barriers to physical access to ensure more effective and efficient occupancy.
3. Affordable
Provide units that cost no more than 30 percent of a household's income is the key to affordability.
Role of the Housing Navigator
Advocate for necessary changes in housing policies, practices, and procedures.
Help expand housing opportunities or support of the "Promoting Independence Initiative and Money Follow the Person" program.
Provide developers with letters of non-profit support for their low-income tax credit state applications.
Respond to housing policies at local levels (through Consolidated Plan, Housing Authority Plans, Community Development Block Grant, and Low-Income Housing Tax Credit Program).
Establish relationships with independent rental owners and property managers to increase availability of properties.
Engage and support housing developers to bring additional housing stock into the area through state and local housing programs (section 811 for disabilities, Amy Young Barrier removal program among others).
WE CAN ALSO HELP YOU TO…
identify specific needs in the region.
reduce barriers to affordable housing.
assist developing relationships with local agencies and organizations.
assist with section 201 and section 811 HUD funding process.
education on the steps to building ADA accessible homes.
The ETxADRC Housing Navigator program is seeking more landlords to develop connections with and properties to visit.   If you are interested, please contact the Housing Navigator to set up a site visit and in person meeting. Contact ETx ADRC
at etxadrc.org/contact

 or call  

855-937-2372

 for additional information.
HOUSING AUTHORITIES
Housing Authorities support affordable housing in a community through public housing assets, rental assistance vouchers, and partnerships with nonprofit, for-profit, and other governmental agencies.
They also are responsible for managing the delivery of safe, affordable housing in local areas through their involvement in:
building control and regulation – including management of the Housing Health and Safety Rating System.
tenancy management e.g., collection of rent, repairing property damage, making improvements, and using tenant groups and networks to increase awareness of safety and other issues.
tackling overcrowding and anti-social behavior on estates.
consulting with residents on possible improvements to the area.
We understand that finding help for older adults and people with disabilities can be overwhelming. That's why we have Trained Specialists who will guide you to the right service options to help meet your needs. They are available to assist you Monday – Friday, 8 a.m. – 5 p.m. If you live within the 23 counties we serve, call the number below and follow the instructions.
then

Press 1

Press 1 again
Enter the ZIP Code of the person receiving care or assistance
After following these easy steps, your call will be transferred to our Trained Information and Referral Specialists who are ready to listen to your concerns and provide you with information for a variety of service providers, including publicly funded and private pay services.
Whether you are looking for long-term care services or supports for yourself or someone else, please give the ADRC number a call.